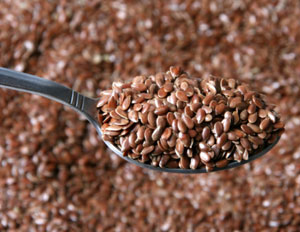 6 reasons to eat flaxseeds
1.Walnuts and fish are excellent sources of omega-3s, but so are flaxseeds. The recommended daily intake (RDI) of omega-3s is 1.1 grams a day, and one tablespoon of flaxseed offers 1.8 grams.
2.The omega-3s in flaxseed can help reduce the inflammation that leads to conditions such as asthma, rheumatoid arthritis, migraine headaches, and osteoporosis.
3.Alpha-linolenic acid (ALA) is one kind of omega-3s that is found in flaxseeds, and this fat helps promote bone health.
4.Flaxseed is known to lower total cholesterol and LDL cholesterol levels, and it may lower blood pressure — all essential elements to having a healthy heart.
5.Whole flaxseeds are great sources of fiber. One tablespoon contains three grams of fiber, so they can help prevent constipation.
6.Lignans, the fibers found in flaxseed, promote regular digestion and are thought to have a role in breast cancer prevention.
How you say?!? They must be ground-- Buy whole and ground them yourself in a coffee/spice grinder. Your body can not breakdown whole and you will not get the glorious benefits!