The lotus flower grows in muddy water and rises above the surface to bloom with remarkable beauty. At night the flower closes and sinks underwater, at dawn it rises and opens again. Untouched by the impurity, lotus symbolizes the purity of heart and mind. The lotus flower represents long life, health, honor and good luck.
The Lotus root is the rhizome of the flower and is edible popular in Asian meals. I went to China town this weekend with my mama and we picked up a few things including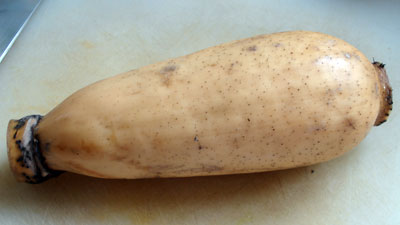 the lotus root. The Chinese ladies shopping were helpful with our annoying questions on what the heck to do with it. So pretty inside but so ugly outside. What a reflection of inner beauty just like the lotus flower.
To cook- cut the knobs off the ends and peel. Cut into sections. Steam (I used my
steamer basket) around 10 minutes. i then added the baby bok choy, mushrooms for another few minutes. Stirfry with tamari or soy sauce and ginger for a few minutes. enjoy